New
Nothing New This Week
Our Development team focused on fixing bugs and problematic issues this last week and knocked out a bunch of them.
Improved
Search for Serial Number in Register
You may now search for a serial number in the Register, and that item will automatically load into the transaction. This will only work where the serial number is unique. The complete serial number must be searched. A partial search will not return a result.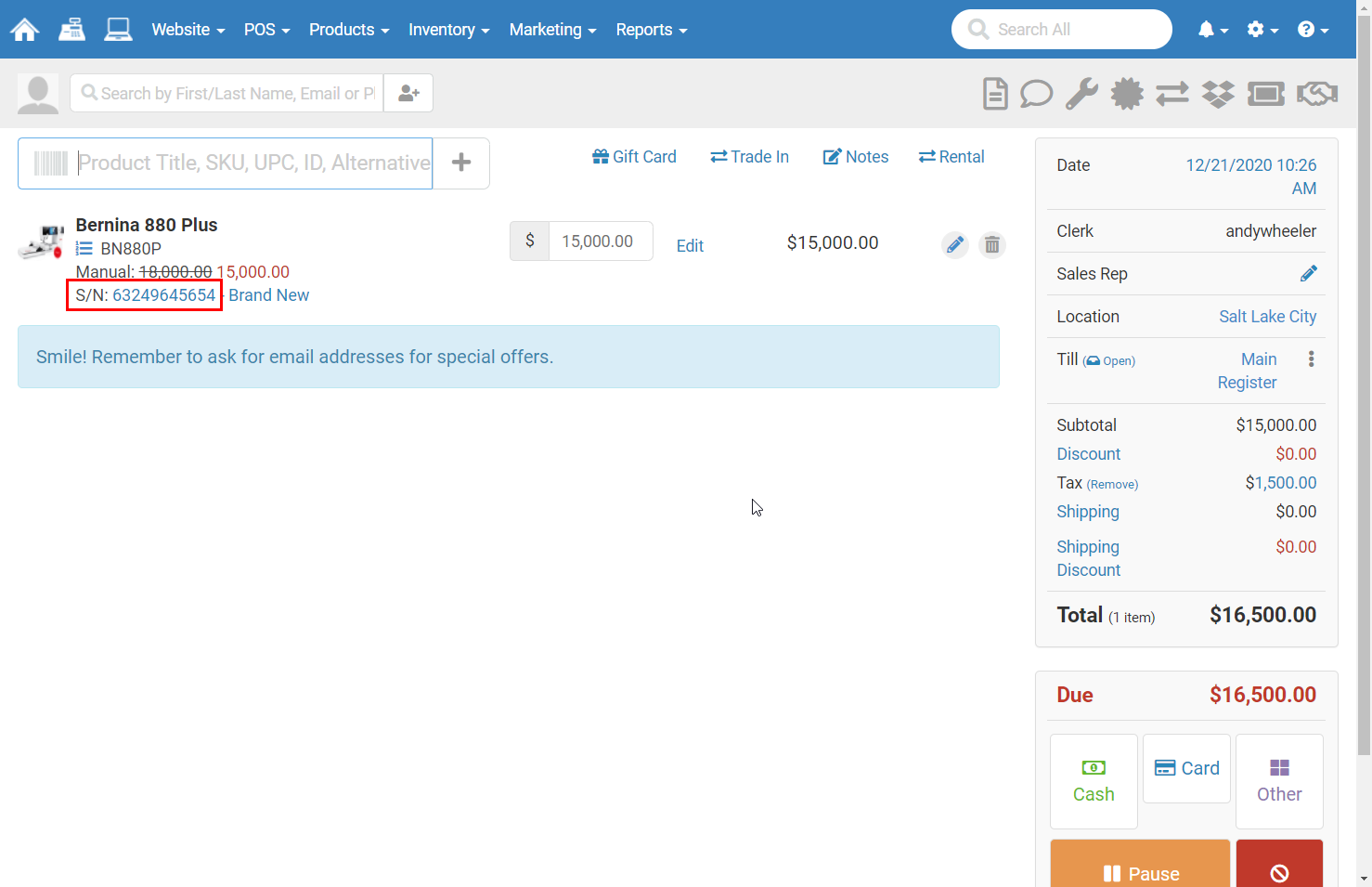 'Action Needed' Website Orders
Adjusted the orders list when filtering by "Action Needed" to no longer show orders that have been refunded or returned.
Fixed
Layaways Not Requiring a Customer
Fixed an issue that was allowing stores the ability to create Layaways from the Layaway page without requiring a customer.

End of Day Report Not Listing All Transactions
Fixed an issue where a few transactions for certain stores were not displaying on the End of Day report.

Bulk Text Messages
Fixed an issue where the store could click send on the bulk text message tool even if they had not checked the box for the list to send to or put in a test phone number. This would refresh the page and make the store question if the message actually sent or not. We now display a message letting the store know if the message was sent successfully or not.

Special Orders
Fixed an issue where we were allowing a negative discount to be added to a product in a Special Order. When picking up the Special Order, the Register displayed the discount as a double negative, which caused the item discount to be added as a higher price instead.

Point of Sale General Settings
When an amount exceeding $1000 is entered into the setting Require Signature for Card Transactions Over This Amount, the field would stop working after adjusting and saving any other setting. We have fixed this issue by allowing commas in numbers for this field.

Sales By Item Export
Fixed some issues with the quantities being incorrect on the Sales By Item report whenever it would be exported as a CSV file.

Web Orders Without a Country
Fixed an issue were certain orders were coming in without a country, which in certain circumstances would cause some of the order totals to be incorrectly calculated.

User Permissions for Product Bulk Page
Adjusted the product page Bulk actions export and import to obey the bulk management permissions which will not show those options if the user doesn't have access.

Website (Admin View)
The Edit Button on the product page was not displaying if the enhanced product view was off. We fixed this issue so that stores can edit their products regardless of what view they are using.

Classes with Materials
Fixed an issue where deactivated or deleted classes with materials would still show up in the Register search. The class with materials will no longer show in the Register search when the class is deactivated or deleted.

Reverb Not Publishing Product Listings
This week we saw many reports of products not publishing to Reverb. We worked with Reverb to identify the cause of the issue and we both reviewed development changes to stop this from happening. Products should be syncing as expected now.

Deleting Tax Jurisdictions
Fixed an issue that would not allow for a tax jurisdiction to be deleted.

Website Inventory
Adjusted website products to ignore negative reserved quantities. Before this change, negative reserved quantities caused the product inventory on the web to have an increased inventory count, instead of a reduction of inventory.

Website Checkout for Classes with Materials
Fixed an issue where checking out on the web was broken if you added a class with materials to your cart.

Text Message Issues
Fixed an issue where text messages that were sent or received weren't always displaying in Rain. Also fixed an issue that the system did not display to the store if a bulk text message was actually sent or not.


That's all for this week. Take care, we love you!