New
---
Australia Wholesale Checkout
We have improved the website checkout logic for wholesale customers so that GST is charged when appropriate. In Australia, GST (tax) is charge on wholesale orders if the order is shipped within Australia, but not charged if shipped outside of Australia.

Bulk Customer Actions
Added the ability to apply a couple of bulk actions to your entire customer list. These actions are regularly requested by stores, and have been something our developers ended up doing for them, which could sometimes take weeks. We intend to continue building this out, but for now you can enable or disable Text Message Marketing and Customer Reward Eligibility for your entire customer list. The change will apply to all customers, but does not change the default for new customers. 


Improved
---
User Permissions
Added the ability under user permissions to restrict the ability to edit customer account balances. This is under the gear-shaped button in Users > Groups where you set permissions for your different levels of user groups.
Gift Cards Module
Fixed it so that the gift card module shows the correct currency symbol as opposed to always showing $ for the currency type. For example, if you sell gift cards and use British Pounds, the proper symbol for the pound will now display.

Products Page Filters: Vendor Product Filter
Improved the vendor filter on the Products > Products page so that you many now define whether the selected vendor is the Primary vendor, or Any vendor listed for a given product. Selecting Primary will limit the results to products where the selected vendor is listed as the primary vendor. Selecting Any will show all products where the selected vendor is assigned, but is listed as either the primary or a secondary vendor.



Products Page Filters: Product Status
Updated the Products > Products page Filters to allow for filtering products by Status. With this change, we added the ability to view Deleted products. Previously, you could view only Active or Deactivated products. Clicking into a deleted product and either saving or reactivating will restore the product to an Active status, so you can now effectively undelete any product.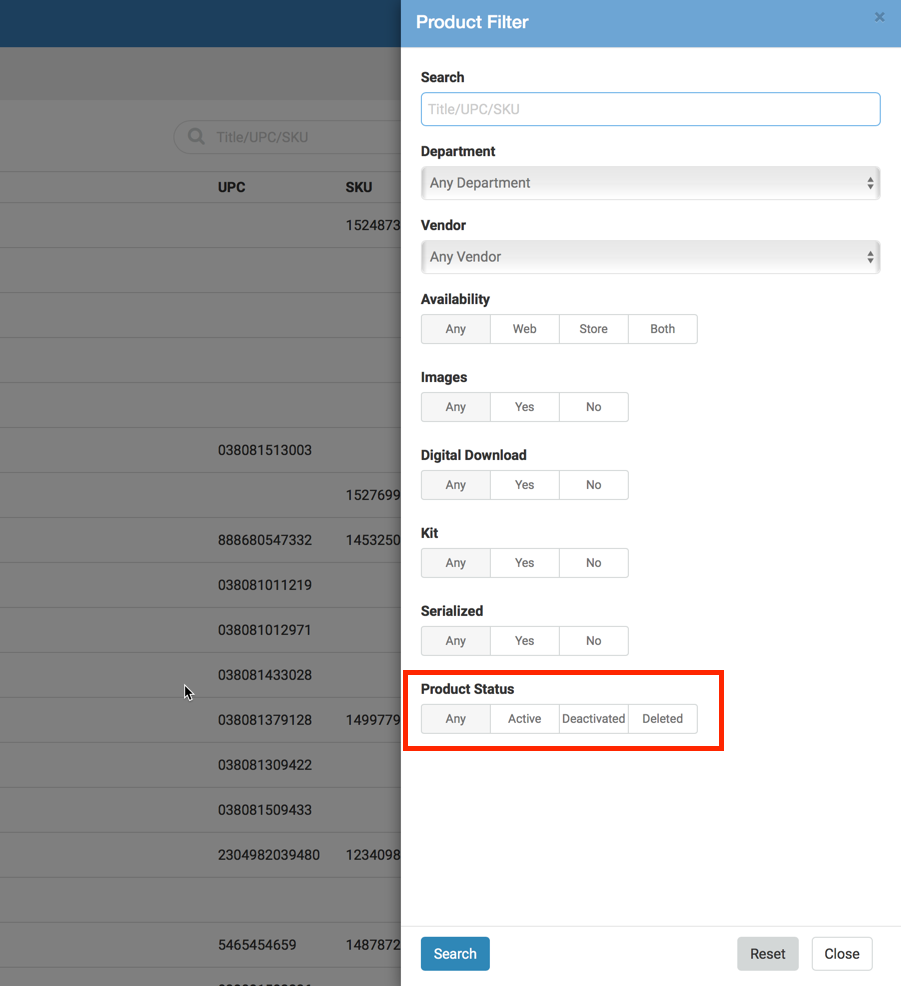 Orders Default Date Range
The default date range for the Orders Module will now display the last 30 days instead of just however many days we've had so far for this month. The previous default make it difficult to see recent orders at the beginning of a new month.



Transfers: Transfer ID, Product IDs
We now display the transfer ID on the transfer summary and detail pages. Before, no IDs displayed, making it hard to keep track of transfers. We also now display the product ID (UPC, SKU, MFG ID) for each item in the transfer.




Transfers: Delete Drafts
Added the ability to delete a transfer draft. Previously, this had to be done by one of our developers, since drafts with mistakes could not be completed.


Fixed
---
Transfers: Select Serial Number
When selecting a serialized item in a Transfer, you may now specify which serial number(s) are being transferred. The quantity being transferred is determined by the number of serial numbers you select. If you sell an item that is saved on a transfer draft, then you will be warned about the item no longer being available the next time you open the draft.
Transfers: Disappearing Items
Fixed an issue where deleting items from a Transfer Draft would delete all of the other items.


Quotes
Fixed issue with printing Quote receipts from the till where it would truncate everything after a comma in the price. So a price of $5,000.00 was displaying as $5.00.


Suggested Products Search
Fixed an issue where the suggested products search didn't work when creating a new product. You can now freely add Suggested Products on the Advanced tab of a New Product instead of having to save and go back to add them.

Automated Marketing Logo
Fixed an issue where the company logo uploaded to the automated email marketing settings wasn't appearing in actual emails. It was being used for the preview emails correctly, but not for the weekly emails.

Rent to Own Payment Reminder Popup
Fixed an issue where an incorrect reminder was popping up in the Register. If you create a new contract, we show a popup reminder letting you know if payment needs to be collect.

Catalog
Fixed issue where any D'Addario products selected from the catalog search would cause an error to be displayed. Fixed issue where D'Addario, when selected as a source from the catalog filters, would hide the related search results.