New
2019 Year-End Inventory Value
The 2019 year-end Inventory Value Report is available for download. Go to
Reports > Inventory Value
and select 2019 from the download list near the top, then click the Yearly Report button to download the export. Please note that the 2020 option in that list will just download the current inventory value, the same as the Export link to the right.
Show Payment Attempts for Rent to Own Autopay
We often hear questions about whether or not auto payment actually ran through the processor. On RTO / RTR / Finance contracts, you can now see if auto payment was attempted and the result from the attempt. This will only show historical information moving forward.
Improved
Added Driver's License to RTO Contract Template Builder
We recently added driver's license as a standard field on the customer profile. As part of that enhancement, we have added driver's license as a field that can automatically populate on RTO contract templates, as pictured here.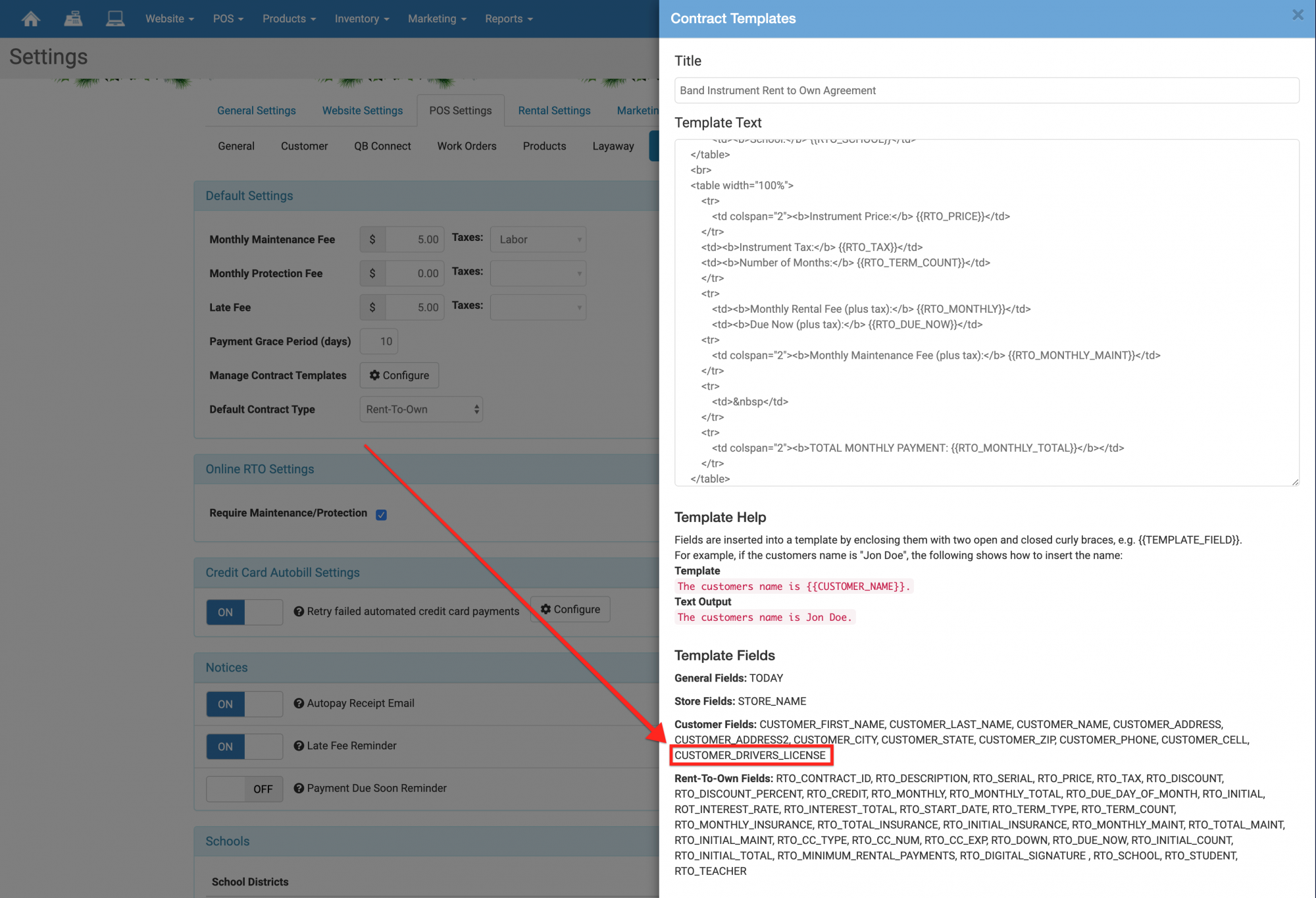 Invoice Late Payment Tax Settings
Invoice taxes can now have different rates depending on the location and product type. You can select which taxes apply for invoices in the system settings. This is useful for because you can customize what is being taxed since all kinds of products and services can be invoiced. This tax customization can be set in
Settings > POS settings > Invoices
, as pictured below.
Fixed
Product Merge Tool Breaking Receiving Order
Fixed an issue that was caused by merging a product that was included in a Receiving Order draft. If you created an RO draft, then merged an item on that RO with a new product, it could not find the existing product in the RO list and would cause an error to be shown. When you merge a product that is on an open RO, it will now update the RO to have the merged product.
This was commonly occurring on integrated purchase orders, as stores would occasionally merge new products created through the integration with existing products in their system. This would then not let them open the RO.

E.E. Schenck Integrated Orders Issue
We found a problem where E.E. Schenck integrated orders were not appearing if the integration had been turned on. We worked with the development team at E.E. Schenck to resolve this issue and these orders should now start appearing.

Fixed Purchase Order Numbers Display Issue
We have fixed an issue that caused Purchase Order numbers to only display partially on the purchase order list page (Inventory > Purchasing). This was causing confusion for many integrated orders as the numbers would often be identical for several orders, then it would show the correct numbers once clicked into the Purchase Order itself. This caused users to need to click into each order to identify which order was the one they were looking for.

Invoice Balance Report Fix
Fixed an issue that had fully paid invoices showing up on the Invoice Balance report, which is a report for unpaid invoices.